Updates: Art in The Bronx and Boogie on the Boulevard
essay and public space festival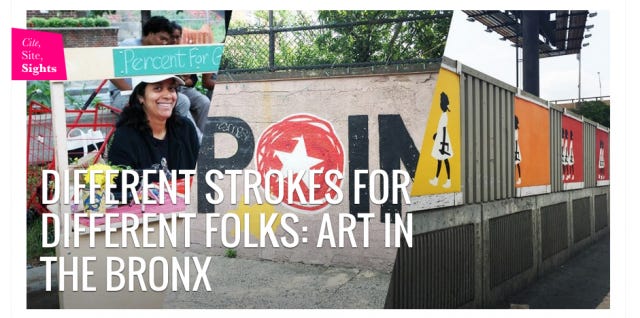 Dear Friends and Colleagues,

I'm excited to share some recent work with you. Different Strokes for Different Folks: Art in The Bronx has been published on coleccioncisneros.org. In the essay, I write about the thriving and diverse art scene in The Bronx, where community-driven projects create a robust ecosystem. The blog post was adapted from the essay published at the ‪Bronx Calling: The Third AIM Biennial catalog at The Bronx Museum of the Arts.
---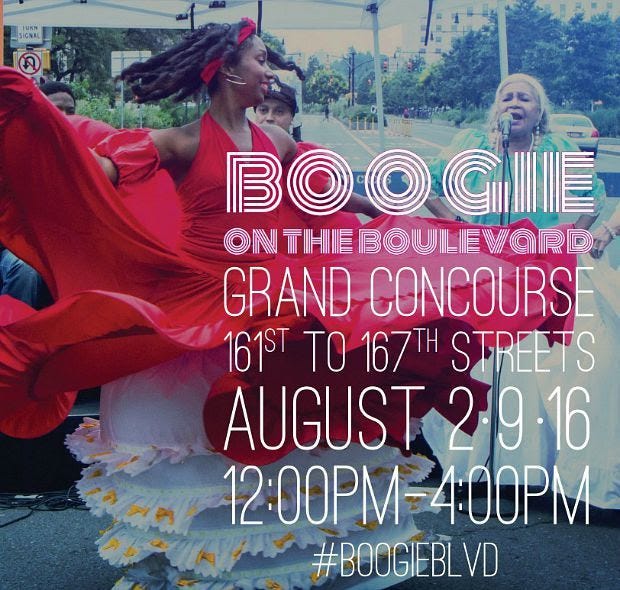 It's time for Boogie on the Boulevard!

Celebrate summer in the Bronx on the Grand Concourse between 161st and 167th Streets.

On three consecutive Sundays in August, the 2nd, 9th, and the 16th, the center lanes of the Grand Concourse will be closed to cars and open to a world of fun, with free music, activities and programs hosted by a range of local civic, arts and health organizations.

Last year saw the return of car-free Sundays on the Grand Concourse and the debut of Boogie on the Boulevard. This year the event is twice as large with even more opportunities to meet your neighbors and relax in your own backyard.

WHAT: Boogie on the Boulevard 2015
WHEN: Sundays August 2, 9, and 16 from 12pm to 4pm
WHERE: Grand Concourse (From 161st to 167th streets), The Bronx

RSVP on Facebook for one Sunday or all three.
Sunday, August 2nd
Sunday, August 9th
Sunday, August 16th
Hope to see you there!
---
Coleccioncisneros.org is a bilingual website that fosters dialogue and debate about the field of Latin American art and ideas. Each week there are new essays, videos, debates, and dispatches featuring the work of contributors from around the world. Check it out and join the conversation!